Dropping by with a quick card using a sketch. I am loving using sketches at the moment, as I can easily import the sketch image into my Pazzles software and draw the design to create my cut lines. I print out my digital papers and lay them onto my cutting mat. Then, I just cut the elements out using my Pazzles Inspiration cutting machine. This makes a super quick card without having the need to design from scratch and measure out the pieces. Everything is done using my cutter software!
I have used the Mug Life Graffiti graphic set. You can import the topper into your software and create a cutting line, using autotrace to Print and Cut the image. Or you could use a circle punch for speed, once printed out, using your colour printer.
Cutting Supplies:-
Check out the
LD PRODUCTS
for your cutting machine and scrapbook projects.
**********
If you are interested in the process of
Print and Cut
you will love the NEW Pazzles Inspiration Vue.
Coming Soon, Inspiration Vue - pre order now
(click image below)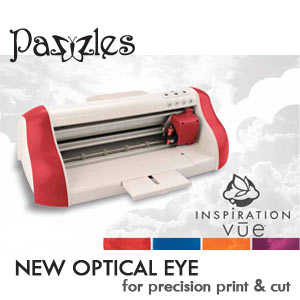 Bye for now ~ Joanna x