As soon as I saw the Watercolor Stripes cutting file in the Pazzles Craft Room, I just knew that I wanted to make a simple card using it. These cards seem to be really popular at the moment using colouring pens and stamps, but it is so quick and easy to create when you have a cutting machine!

I imported the Watercolor Stripes cutting file onto my visual mat using my Pazzles software. I also wanted to used the dandelions cutting file which is also found in the Pazzles Craft Room available in wpc and svg file formats.
I decided that I wanted to use softer colours as a background for my flowers. I selected the darkest pink and coloured the bottom stripe using my colour picker tool in the Colour Menu. I then duplicated the colour to the next stripe and dragged down the slider for the fill colour to make it a touch paler. I continued this method for all the stripes ending up with the palest pink at the top which gave more definition to my flowers.
I grouped all the Watercolor stripes and then placed the Dandelions on the top. I did thicken the pen for the Dandelions, to give more definition.
I then resized the watercolor stripes and dandelions to fit in my card shape. Image above shows what it looked like on my visual mat before I sent it to print.
I printed it out on my color printer from my Pazzles software, and then cut it out using my paper trimmer, around the rectangular shape. Of course if you didn't like the pink background you could always change the colours to your liking.
I love the look of this "in trend" card......do you think I have successfully achieved the watercolor look?
Cutting Supplies:-
Watercolor Stripes and Dandelions - Pazzles Craft Room Library
*****
If you would like to make more Print and Cut projects you might be interested in the NEW Inspiration Vue cutting machine (now available for Pre-Order). Print and Cut projects will be a dream with this NEW cutting machine as there is a NEW Optical Eye which will make it easier to make precision Print and Cut projects without the need of having to make the registration boxes.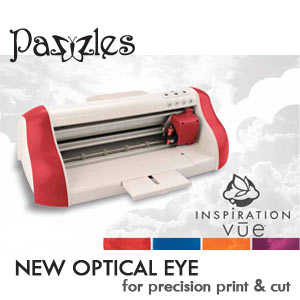 Thanks for popping by ~ Joanna x