Those of you who follow my blog, know that 6 months ago I got my NEW
Pazzles Inspiration Vue.
I just LOVE creating
Print and Cut projects
using the optical eye, which reads the registration marks. It is such a breeze to use once you have mastered it.
Well, over the weekend I was itching to make a
Pocket Slider card
. This weekend I saw the release of
LD Nancys Valentine Day
graphics, which incidentally can be purchased in the
Nuts about Nancy Bundle.
These do not come in cutting files, but that is fine, because it gave me the opportunity to use
vectorise,
in order to create a cutting line in my
InVue software.
First of all, I imported a
Pocket Slider card
into my InVue software. The Pocket slider card is available in the
Pazzles Craft Room
. I then imported the cute
Frog and My Prince
sentiment from the
LD Nancys Valentine Day - GS.
I arranged it over my cutting files to create the
Print and Cut
element of my project.
Once, I had Print and Cut my project I then vectorised my cute Frog Prince to create a cutting line, as this is a graphics file. I did this, because I thought his tum would not look so good paper pieced and I liked the idea of the printed graphic peeping through the paper pieced frog. I then, adhered my cut out frog over my printed frog, and layered the crown using craft foam squares. Apologies for not taking a photo at this point, but I hope you are still with my on the process.
To recap, I have printed out the frog image onto the pocket slider card, then overlaid the paper pieced frog minus the tum! I then cut out the rest of the elements to transform my frog into a prince!
The slider part was easy, just a straight
Print and Cut
with a hole punched through the top to allow it to slide out of the pocket.
NOTE : If you buy Nuts about Nancy Bundle you can get the bundle for $10 which includes the above files and more!
Cutting Supplies:-

Joanna xx

*****
Click image below to see further details on the NEW Inspiration Vue cutting machine which uses a NEW OPTICAL EYE for precision Print and Cut.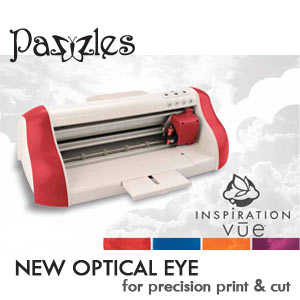 Challenges entered :
Creative Cutting Challenge -
Love