Here, are just a few of my recent projects made using my Pazzles digital cutting machine. If you are a follower of my blog you will already know that I have a passion for creating projects using my Pazzles. It gives me the flexibility and inspiration to make such a variety of projects.
All of the above projects have been made using files from the Pazzles Craft Room. If you would like learn why I subscribe to the Pazzles Craft Room, click the following image to see if you would like to join too.


Recently, Pazzles launched the release of their latest cutter, the
Inspiration Vue.
Wow, I am blown away with the new technology, and can't wait for mine to arrive and try it out. There will be the ability to make quick
Print & Cut
projects using graphics files, svg, wpc files with the NEW optical eye for precision cuts. This is AWESOME news, eeeeek I am so excited.
There are various payment plans, but the most attractive is the possibility to purchase the
Inspiration Vue 99.00 Dollar Special
with a
Pazzles Craft Room membership (2 Year Commitment).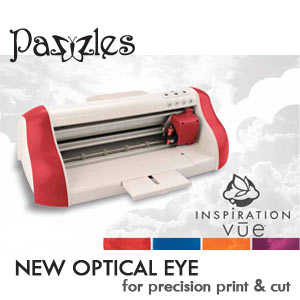 CLICK the above image for full details on the latest
Inspiration Vue digital die cutting machine
and
Pre-Order
yours today (expected delivery late June).